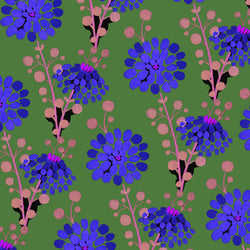 Carly Home
Magia Mums - Green
Chrysanthemums, a symbol of friendship, happiness, and well-being, are imagined in a bold, psychedelic print. Carly originally painted this flower with gouache, an opaque watercolor technique.


All fabric is printed to order and final sale. Please note there is a 3-yard minimum. Orders under 3 yards will not be processed.


Pattern repeat 27"w x 18"h
Available in 4

5% cotton/55% linen or 100% poly-linen




Cotton-linen has a 56" printed width and 6" x 6" swatch

Poly-linen has a 54" printed width and 4" x 4" swatch
Lead time approximately 3-6 weeks, plus shipping
Rush printing is available


For custom color and size inquiries, please email hello@carlyhome.com.