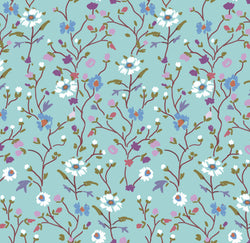 Carly Home
Winona Flowers - Bird's Egg
Named after Carly's old street in Los Angeles, this smaller-scale floral print was inspired by the many wildflowers she would see on daily walks with her dog, Teddy. The pattern plays well with solids, geometrics, and other florals.


All fabric is printed to order and final sale. Please note there is a 3-yard minimum. Orders under 3 yards will not be processed.


Pattern repeat 27"w x 18"h
Available in 4

5% cotton/55% linen or 100% poly-linen




Cotton-linen has a 56" printed width and 6" x 6" swatch

Poly-linen has a 54" printed width and 4" x 4" swatch
Lead time approximately 3-6 weeks, plus shipping
Rush printing is available


For custom color and size inquiries, please email hello@carlyhome.com.