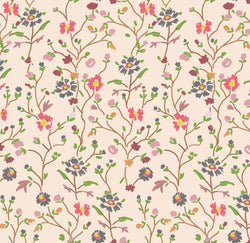 Carly Home
Winona Flowers - Soft Blush
Named after Carly's old street in Los Angeles, Winona Boulevard, this all over-ditsy floral print was inspired by the many wildflowers she would see on daily walks with her dog, Teddy. This beautiful, lush pattern plays well with other prints that are geometric, ethic, and floral. Carly envisions this wallpaper in a dining room with wainscot, or a bedroom — though this print will be perfect for any room you wish to bring to life.
55% linen / 45% cotton 
Repeat 27"w x 18"h
56" printed width 
Swatches measure 6" x 6"
Sold by the linear yard
Lead time approximately 2-4 weeks, plus shipping
Custom colors and grounds are available, please inquire
Please note: All fabrics are print to order and finale sale. 3-yard order minimum on cotton-linen fabric.
Questions? Email us at hello@carlyhome.com